The Best Vietnam & Cambodia – 17 Days
Tour Duration: 17 days / 16 nights
Tour Route: Hanoi – Sapa – Ha Long Bay – Hue – Hoi An – Ho Chi Minh – Mekong Delta – Phnom Penh – Siem Reap.
Dates: No fixed departure dates. You may go whenever you wish.
Starts/Ends: Hanoi (Vietnam) / Siem Reap (Cambodia)
Tour Type: Landscape and Nature, Halong Bay Cruise Holidays, Angkor Temple and Folk Arts
Activity Level: Regular itinerary, Moderate walking
Tour Customizable: Absolutely! (Tell us your specific requirements in the inquiry form)
Price from: Contact Us
Within 17 days, this combination trip provides you the best parts of Vietnam and Cambodia, from the spectacular Halong Bay to the majestic temples of Angkor (Angkor Thom, Angkor Wat, Bayon, Banteray Srei and countless masterpieces of Khmer architecture). From the historical and charming center parts of Vietnam to the exciting Mekong delta.
DAY 01Hanoi – Arrival (D)
Upon arrival, welcome by our Tour Guide and transferred to your hotel. In the late afternoon, we will take an hour Cyclo - tour viewing the charming French colonial architecture to the bustling Old Quarter and attend the performance of the unique water puppetry. Welcome dinner will be reserved at local restaurant.
Overnight in Hanoi.
DAY 02Hanoi – Overnight train to Lao Cai (B, L)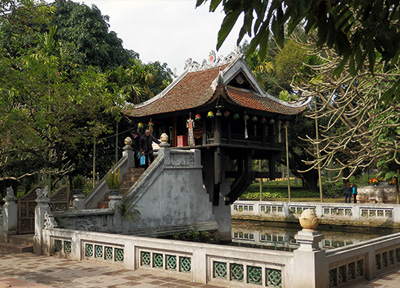 One Pillar Pagoda in Hanoi
We begin a full-day city tour by visiting the Ho Chi Minh complex, including the One Pillar Pagoda, the former leader's house on stilts and his Mausoleum. Keep forward to the peaceful Temple of Literature - the first university of Vietnam.
Lunch will be served at a local Vietnamese restaurant.
In the afternoon, proceed to the Ethnologic museum, which focuses on the 54 officially recognized ethnic groups in Vietnam, it is widely considered to be the finest modern museum in Vietnam and a tourist attraction in Hanoi.
Back to the city central, visit Ngoc Son temple then free time until transfer to Hanoi railway station for overnight train to Lao Cai.
DAY 03Lao Cai – Sapa (B, L)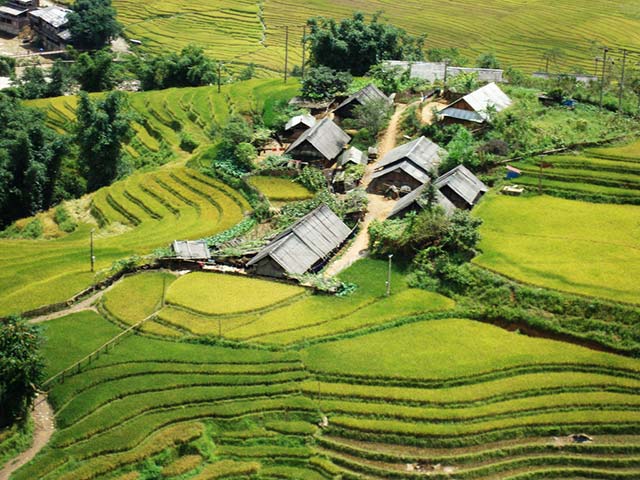 Y Linh Ho Village in Sapa
After early arrival at Lao Cai, a Chinese border town, we enjoy breakfast at a local Vietnamese restaurant before drive to overland to a market of the hill tribal people. Depending on the day of the week, Bac Ha, home to the flower H'mong hill tribe minority people is open on Sunday; Can Cau on Saturday or Coc Ly on Tuesday.
In all these markets, we can meet hundreds of beautiful women from Flower Hmong tribe, who are famous for their wonderful craft and hand-made flowering clothes and textile fabrics, or intermingle with people from Black Hmong, Dzay, Dzao and other ethnic groups coming to the market not for purchasing stuffs, but for meeting and chatting – just once a week - like in a real cultural center. After lunchtime, we drive to Sapa. Check in to the hotel and free at the leisure.
Overnight in Sapa.
DAY 04Sapa – Lao Cai – Overnight train to Hanoi (B, L)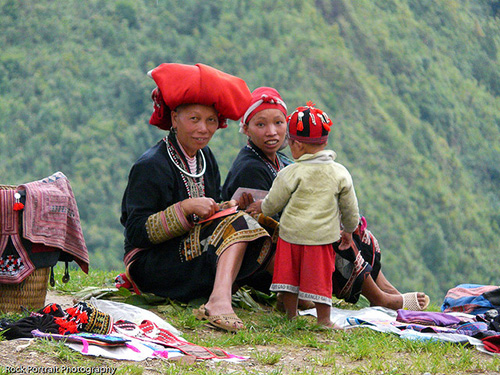 Sapa
We will start walking to Cat Cat village in the bottom of Muong Hoa valley. Enjoy the spectacular views of the beautiful valley towards Fansipan – highest peak in Vietnam and Indochina. Go through the village of Black H'mong ethnic minority; see people weaving and embroidering their clothes, keep going down enjoy colorful rice terraces and the interesting waterfall.
Continue on, we will walk from Cat Cat towards Muong Hoa valley where we can admire magnificent landscapes and trek on a small trails going to Y Linh Ho village. Enjoy picnic lunch before trek through lush rice – terraces towards Lao Chai village, experiencing Black H'mong people's daily life and traditional culture and then head to Ta Van village inhabited by Zay minorities.
Take a fresh shower in the hotel before heading to Lao Cai train station for the night train back to Hanoi.
DAY 05Hanoi arrival – Halong (B, L, D)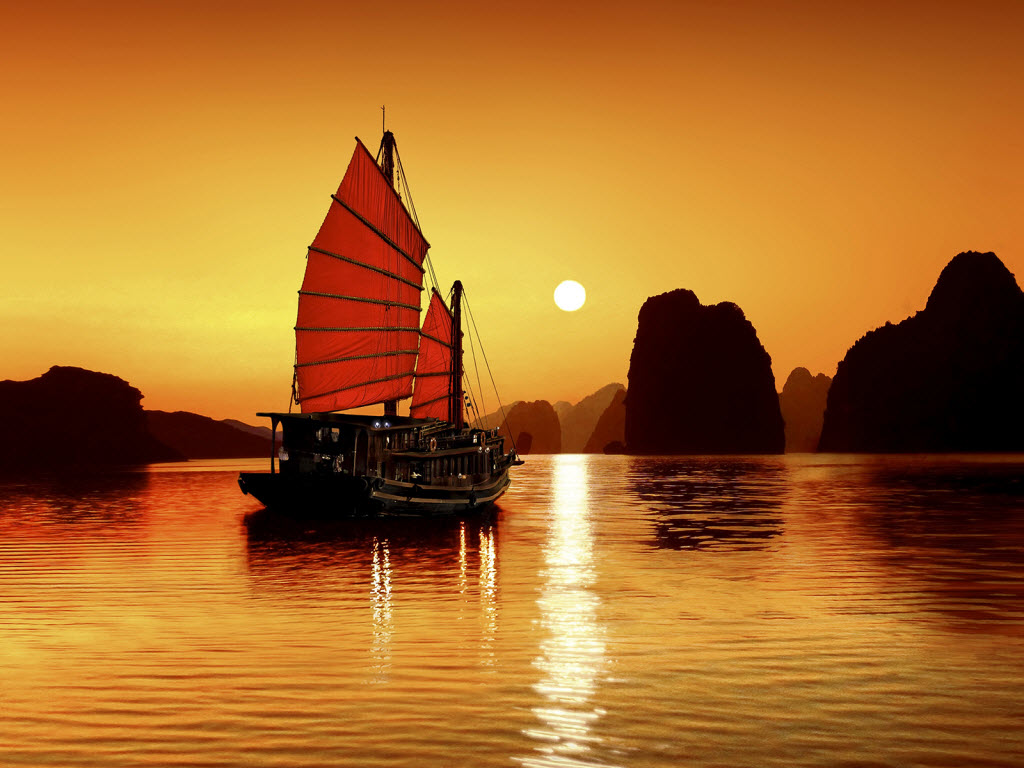 Halong Bay
Arrival at Hanoi railway station in the early morning, take a shower and enjoy breakfast at a mini hotel nearby before departs for Halong Bay, listed as a World Heritage Area of outstanding natural beauty. "Dragon descending to the sea" as it is known in Vietnamese, picturesque Halong Bay has more than 1.000 limestone islets rising from the sea, many of them containing beautiful grottoes
Upon arrival at Halong Bay we embark on a boat trip to cruise discovering this magnificent UNESCO World Wonder. This is a great journey among surreal islands rising from a tranquil emerald sea.
In the late afternoon, we anchor for the night on the bay and enjoy a delicious seafood dinner on board.
Overnight on a junk boat in Halong Bay.
DAY 06Halong – Hanoi – Flight to Hue (B, L)
Early morning coffee and tea will be served on the sundeck followed by a Tai Chi class. After breakfast we take a Sampan boat to explore Luon Cave. We may have a chance to see the wild monkeys that gather around waiting for food from the tourists. After that we continue to cruise around the bay. Lunch is served on the boat on our way back to the docks then transfer to Noi Bai airport for flight to Hue. On the way, stop over for Dinh Bang Village in Bac Ninh Province to visit Do temple, this temple was building during the Le Dynasty and has been altered several times since. The major reconstruction took place under the reign of Le Trung Hung in the 17th century. Then we enjoy traditional music show "Quan Ho" or called Quan Ho Folk song. Arrival Hue, welcome then transfer to the hotel, check in and free time at the leisure.
Overnight in Hue.
DAY 07Hue – Hoi An (B, L)
Visit the Forbidden Citadel and the crowded market of Dong Ba where you may be interested in bargaining for some priceless souvenirs before processing to Hoi An via the Hai Van Pass (Pass of the Ocean Clouds). Stop on the way to visit Cham Museum, My Khe Beach, Marble Mountain. Arrival Hoi An, check in to the hotel then free time at the leisure.
Overnight in Hoi An.
DAY 08Hoi An (B, L)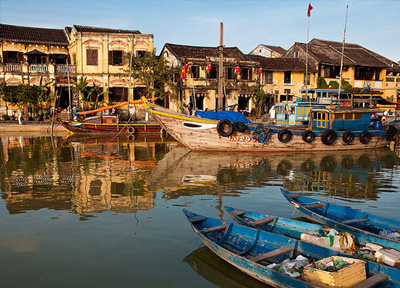 Hoi An
This morning we take a walking tour of the old town Hoi An. Hoi An nestled on the banks of the Thu Bon River. Before the river silted up, Hoi An was one of the most important trading ports in Southeast Asia, and a center for East-West exchange and trade. From the 2nd until the 10th century, Hoi An was one of the principal Cham cities. Over the years, Indian, Dutch, Portuguese, French, Thai, Indonesian, Spanish, American, Japanese, Filipino and Chinese ships docked in Hoi An. In the 19th century, as the result of warfare and environmental changes, Hoi An was replaced by Da Nang as a major port. Reflecting the diversity of the traders and missionaries that settled in the port (including Alexander of Rhodes), the ancient architecture is a fascinating mix of Chinese, Japanese, and Vietnamese. The rooftops of Hoi An retain a magical old world Oriental feel and are a favorite subject for Vietnamese artists. In the early 1980s Hoi An's ancient quarters and historical monuments came under the protection and restoration efforts of UNESCO and the Polish government. Visit the Japanese covered bridge, Phuc Kien assemble hall, Phung Hung old house, Hoi An museum and Quan Cong temple.
The rest of time is fee to walk in the old town, feel the atmosphere of its original culture, enjoy shopping for tailor clothing, lanterns, shoes and food, or simply relaxing on the beach.
Overnight in Hoi An.
DAY 09Hoi An – Da Nang – Flight to Ho Chi Minh City (B, L)
Free at your leisure until transfer to the airport for onward flight to Ho Chi Minh City, the former Saigon. Arrive at the airport, you are welcomed by our tour guide and transfer to the hotel.
Overnight in Ho Chi Minh city.
DAY 10Ho Chi Minh City (B, L)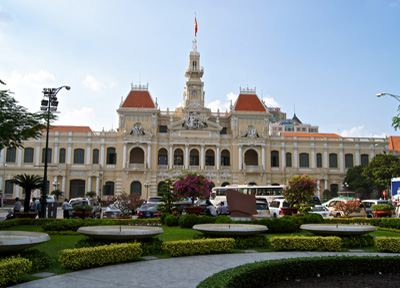 Post Office in Ho Chi Minh city
Today, you will literally feel the excitement of Ho Chi Minh City.
First, we visit the Reunification Palace, the former palace of President Thieu and his predecessors. Today this building is a museum and venue for official receptions. Inside you can visit the private rooms of the president, the "War Room" from where the South Vietnamese forces were controlled, and, most poignantly, the room where the North Vietnamese army finally took control in 1975. Next, we visit the War Remnants Museum, Historically, the war museum as part of the Vietnam and World Peace museums system was born on Sep 4 1975 at 28 Vo Van Tan street, district 3, HCMC. Since its 30-year inception, the museum has attracted over 10 millions arrivals of domestic and foreign tourists, especially, student delegations from provinces and cities nationwide. It helps reappear the then-wars, helping students well realize on the values of patriotism, struggle for peace and national liberation from forefathers. This museum includes 8 specific exhibitions and various collections of the truth of history (conspiracy and process from hostile forces for the war in Vietnam); crime evidences and war consequences; kinds of weapon and tools serving for the wars; prison (prison house system, concentration camp, torture, maltreatment, corporal mutilation and spiritual oppression against political prisoners).
We also stop at the Notre Dame Cathedral and Old Post Office. The post office, built between 1877 and 1883, is an excellent example of classic French colonial architecture. In deference to the Chinese heritage, you will also visit Thien Hau Pagoda, built in 1863 by the ethnic Chinese of Saigon and dedicated to the Goddess of the Sea, and Cho Lon market.
The rest of time is free at the leisure.
Overnight in Ho Chi Minh city.
DAY 11Ho Chi Minh – Vinh Long - Can Tho (B, L)
After breakfast, driving three hours through the lush fields and farms will take us to the southernmost region of Vietnam - the Mekong Delta often referred to as the rice basket of Vietnam as it produces three harvests per year.
Upon arrival, we embark on a boat trip to visit Cai Be floating market before visiting Dong Hoa Hiep, a village that makes rice paper - a crucial element in Vietnamese cuisine!
We will also visit one of many local orchards where we can enjoy some of the exotic fruits before transferring to Can Tho.
Overnight in Can Tho.
DAY 12Can Tho – Chau Doc (B, L)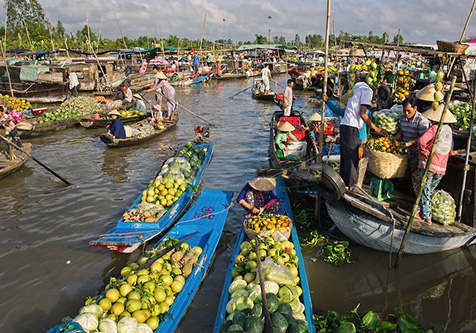 Float Market in Mekong delta
After breakfast we take to the water to witness Vietnam's largest floating market. See local farmers trading their produce on the water as they have done for centuries. Continue on to a fruit orchard where you can try the tropical fruits grown in this region and try some local tea then drive deeper into the Mekong to Chau Doc. On arrival in Chau Doc, boat to cruise through Islamic Champa village and fishing breeding house on Mekong River. Continue to Tri Ton, a place renowned for its numerous Khmer sanctuaries.
Overnight in Chau Doc.
DAY 13Chau Doc – Phnom Penh (B)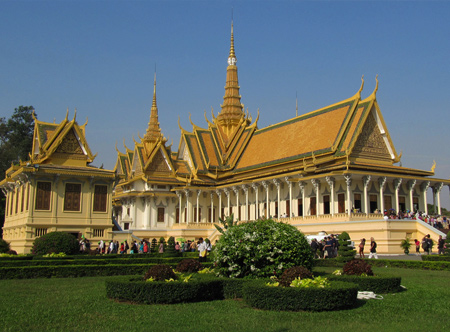 Royal Palace in Phnom Penh
Check out hotel for the speed boat trip along Mekong River to Cambodia. Upon arrival Phnom Penh International port, you are met and transferred directly to hotel for check in.
In the afternoon, visit to the Royal Palace compound built in 1866 by the Predecessors of King Norodom, is the most conspicuous feature and also one of impressive colorful Khmer-style Palaces. Nearside the Royal Palace is Silver Pagoda (The Emerald Buddha temple), display plenty of Buddha Statues that were decorated and made by diamond, emerald, gold and silver. Travelers will proceed to visit Independence Monument which was constructed in 1954 after Cambodian took their country back from French colony, continuing visit to National Museum, the distinctive red building with a beautiful Khmer architecture was built since 1917 and contains more than 5000 art objects made of sandstone, bronze, silver, copper, wood and others. Visit Tuol Sleng prison (Genocide Museum) was the most secret organ of the Khmer Rouge regime. S-21 stands for "Security Office 21.
Overnight in Phnom Penh.
DAY 14Phnom Penh – Flight to Siem Reap (B)
After breakfast, we transfer to the airport for flight to Siem Reap.
Upon arrival in Siem Reap, we will check-in to our hotel after that we are free at leisure for the rest of the evening.
Overnight in Siem Reap
DAY 15Siem Reap (B)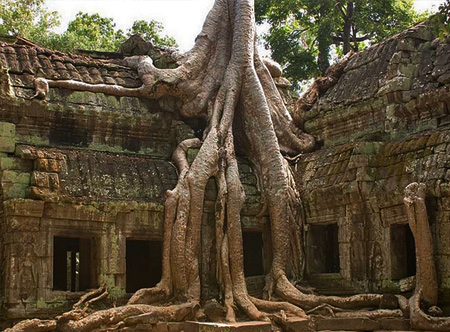 Angkor Wat Cambodia
We start on our bike and cycle to world heritage areas on the roads less travelled. Ride among the jungle passing local village and local shop. It's a very special and acting day as you will explore some of Angkor's most beautiful temples. You will visit the West Gate of Angkor Thom – undiscovered by mass tourist.
- The ancient capital of Angkor Thom (12th century)
- See the South Gate, Bayon Temple – unique for its 54 towers decorated with over 200 smiling faces of Avolokitesvara
- Baphuon temple lying just to the north of Bayon a pyramidal representation of mythical Mont Meru
- We step to see our old palace as Phimeankas temple in huge complex that was used for our king in the past time.
- Then Elephant terrace is platform for king and officer viewed show and people meeting.
- Preah Palilay which is older than Angkor Thom is nearby, deeply in forest and on path back. You can see monks sprinkling water to people.
We continue to visit the famous temple: Angkor Wat. Angkor Wat, a World Heritage Site since 1992, is famous for its beauty and splendor. Angkor Wat features the longest continuous bas-relief in the world, which runs along the outer gallery walls and narrates stories from Hindu mythology.
Enjoy foot massage 1hour and walking at busy pub street where you can find many bars for cool drink or go at Angkor Night Market.
Overnight in Siem Reap
DAY 16Siem Reap (B)
Angkor in Cambodia
Rise early to beat the crowds at the photogenic of Ta Prohm "Tomb Raider" fame. Ta Prohm has been abandoned to the elements, a reminder that while empires rise and fall, the riotous power of nature marches on, oblivious to the dramas of human history. Left as it was 'discovered' by French explorer Henri Mouhout in 1860, the tentacle-like tree roots here are slowly strangling the surviving stones, man first conquering nature to create, nature later conquering man to destroy. We visit Ta Prohm early to avoid the masses of crowds and provide a unique visit in this incredible temple.
We head further out through rural countryside to the small but beautiful temple of Banteay Srey. This temple is largely built of pink sandstone, a harder rock that can be more elaborately carved and better survives the rigors of time. This is an opportunity to capture some good photographs of the clear and detailed carvings. Banteay Samre: Its rose-colored sandstone walls are decorated with carvings and bas-reliefs, which are among the most accomplished Angkor has to offer. We finish by experiencing sunset over the rice fields from the royal crematorium of Pre Rup, a classic view of the Cambodian countryside.
Overnight in Siem Reap
DAY 17Siem Reap - Departure (B)
This morning we will enjoy a boat ride on the Tonle Sap Lake. This is the largest permanent fresh-water lake in South East Asia and flows into Tonle Sap River, joining the Mekong in Phnom Penh. We will see a fishermen's "floating village" with floating schools, floating police station, etc. It is same as a big village floating on the lake, and the "village" move from place to place following water levels and current.
Transfer to Siem Reap International airport for your flight home.
Price Details & Inclusions of this Trip
* The price of this trip changes a lot according your group number, travel season and tour class. Please contact one of our travel consulttants for the most detailed qoutation. We ensure the LOWEST price.
TARRIFF COST
PRICE/ PERSON
GROUP SIZE
02
03-05
06-08
Single supplement
PRICE/ Person
US$
US$
US$
US$
What's Include?

All accommodation on twin share basis at hotels
All transfer & transports by private A/C coaches or cars
Meals as listed in the itinerary: B - Breakfast, L - Lunch, D - Dinner
A round trip Ha Noi – Lao Cai – Ha Noi train ticket (base on 4 soft berth sleepers compartment with Air-conditioning)
Fluent & knowledgeable English speaking guide/s in each city (Other languages upon request) 1 unique cultural performance – Water Puppet Show
Entrance fees to all scenic spots listed in the itinerary
Boat trip and Junk Cruise as dedicated in the itinerary
Boat ticket: Chau Doc – Phnom Penh
Visa approval letter to Vietnam (excluded 45 USD visa stamping fee)
What's Exclude?

Visa to Cambodia and Vietnam(Get in advance)
Meals and drinks, except those mentioned
Other International flights
Domestic flights: Hanoi - Hue , Da Nang - Ho Chi Minh City
Insurance, Tipping and other personal expenses
Travel insurance
Personal expenses E
Early check-in and late check-out
Other services not mentioned in the itinerary
You May Also Like...
Vietnam Holidays & Tours
WHY TRAVEL WITH US?
We are internationally registered, well-recognized
Respond you within 12 hours
Best prices guaranteed
Local experts, true knowledge
Our service is personalized, customized at its best
Easy to pay online
Safe & Secured Payment
Professional Consultancy
Best customer care/policy