Cambodia Soft Adventure – 11 Days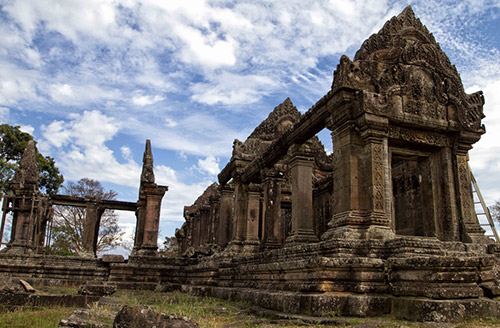 Tour Duration: 11 days / 10 nights
Route: Phnom Penh Arrival - Phnom Penh City Tour – Kompong Thom – Preah Vihear - Kompong Phluk - Siem Reap - Siem Reap Exploration - Kulen National Park - Siem Reap Departure
Dates: No fixed departure dates. You may go whenever you wish.
Starts: Phnom Penh/Ends: Siem Reap
Tour Type: Adventure Tour
Activity Level: Regular itinerary
Tour Customizable: Absolutely! (Tell us your specific requirements in the inquiry form)
Price from: Contact Us
Combining historical temple visits, with cultural immersion and urban exploration, the Cambodia Heritage Tour is a perfect blend of Cambodia's finest elements. Experience the country's natural beauty along with the subtleties of Khmer culture on this journey from Phnom Penh to Siem Reap.
DAY 01 Arrival – Phnom Penh (D)
Fly into Phnom Penh, the city that retains its traditional Khmer and colonial charm. French villas along tree-lined boulevards remind the visitor that the city was once considered the 'pearl' of Southeast Asia. Recent political changes have triggered an economic boom, with new hotels, restaurants, bars and nightclubs springing up across the city.
Visit to the Royal Palace compound build in 1866 by the Predecessors of King Norodom, is the most conspicuous feature and also one of impressive colorful Khmer-style Palaces. Nearside the Royal Palace is Silver Pagoda (The Emerald Buddha temple), display plenty of Buddha Statues that were decorated and made by diamond, emerald, gold and silver. Travelers will proceed to visit Independence Monument which was constructed in 1954 after Cambodian took their country back from French colony, continuing visit to National Museum, the distinctive red building with a beautiful Khmer architecture was build since 1917 and contains more than 5000 art objects made of sandstone, bronze, silver, copper, wood and others.
Stay overnight in Phnom Penh.
DAY 02 Phnom Penh City Tour (B, L)
After breakfast, we will learn about the dark side of Cambodia – Its more recent turbulent and harrowing history. Initially you visit the Toul Sleng Genocide Museum (also known as S21), ironically a former school, located in a quiet Phnom Penh suburb, this was the infamous Khmer Rouge prison / torture centre. Once you have gained an initial insight of the brutality of the Khmer Rouge regime you will be driven 15km from Phnom Penh to visit the 'Killing Fields'. This is where Toul Sleng prisoners were forcibly marched and then executed; it is now a memorial site located in a beautiful tranquil setting.
We take Cyclo ride (3 wheels vehicle), we pass through the River Front park whose scenery is much worth shooting, and continue to the only one hill in town with sacred sites called Wat Phnom before walking along Mekong River bank to see the lovely Phnom Penh city at night with breathtaking view along the river. Other best way to take photo is view sunset cruise on the Mekong and Tonle Sap River (1 hour). Situated at the "Four Arms" where the Mekong meets the Tonle Sap River before splitting into tow branches, Phnom Penh offers the ideal location to discover the mighty Mekong. Board a nicely restored wooden boat for a day cruise, enjoy the unspoiled landscapes along each bank and visit the traditional villages with their old pagodas on the islands.
DAY 03 Phnom Penh – Kompong Thom – Preah Vihear (B, D)
Today you travel by road from Phnom Penh to Preah Vihear. On route you will have a chance to stop on the way to take photo and witness the everyday lives of Cambodians as you pass through interesting provincial towns, bucolic villages, and delightful scenery. This is no 'freeway dash' as you will often slow down to let cows and water buffalo wander across the road, pass horse drawn carriages, and school kids walking and cycling to/from school.
We may choose to stop at Skoun, also known as 'Spider vile' due to the deep fried tarantula that is the local delicacy, are you adventurous enough to try one?
We stop at the archeological sight of Sambor Prei Kuk, which is dotted with hundred Pre-Angkor styled temples. The site, part of the Chenla Kingdom, includes an area of nearly 1000 acres enclosed by double walls, and hundreds temples and towers; its construction predates Angkor Wat by several centuries.
Stay overnight in Preah Vihear.
DAY 04 Preah Vihear Exploration (B, L)
After breakfast, we then travel by foot to Preah Vihear which sits at the top of the Dangrek Mountains.
Preah Vihear is known as the Temple Mountain which was built at the beginning of the 10th century as a Hindu temple dedicated to Shiva. The temple had further works added to it by the following three kings. The temple today is still a Hindu site, but Buddhist Monks pray at the temple to the Gods.
The temple area consists of three stories surronded by two galleries. Your guide will lead you through the temple area explaining the sites ancient and recent history. The temple was declared a Word Heritage UNESCO site in 2008.
Stay overnight in Preah Vihear.
DAY 05 Preah Vihear – Kompong Phluk (B, L, D)
We continue our trip to Siem Reap. Our first stop at Koh Ker group is a group of many temples in the forest, about 150km from Siem Reap. These were built when Cambodia was ruled by two kings (uncle and nephew), and Koh Ker was briefly one of the two capital cities, during the 1st half of the 10th century. Some of the temples are still covered with jungle. There are many of them, but you may see just the most interesting ones.
We also visit Beng Mealea is an overgrown ruin 90mn away from Siem Reap. It is huge, but little known and largely untouched. Besides this temple, we see a small quarry where sandstone was cut to build the temple. The technique used to cut the stones will be explained there. We may take more than an hour to visit the entire Temple.
We continue by boat to Kompong Phluk village. Arrive at the local home-stay, relax and refresh yourself before dinner.
DAY 06 Kompong Phluk – Siem Reap (B, L)
After breakfast we visit the community living on the lake with its floating school and market. Afterwards we are in for a unique experience. We enjoy the generous hospitality of a local family taking us into their home in a small farming village. Our guide will lead you thru waterways, flooded forests and out into the Tonle Sap lake where you can take a dip if you wish. Then back to wind thru the village experiencing how the locals live in this watery environment before returning to the home for lunch and a leisurely boat ride to Siem Reap.
Stay overnight in Siem Reap.
DAY 07 Siem Reap Exploration (B, L)
We hop on our bike to world heritage areas on the roads less travelled. Ride among the jungle passing local village and local shop. It's a very special and acting day as you will explore some of Angkor's most beautiful temples. You will visit the West Gate of Angkor Thom – undiscovered by mass tourist.
- The ancient capital of Angkor Thom (12th century)
- See the South Gate, Bayon Temple – unique for its 54 towers decorated with over 200 smiling faces of Avolokitesvara
- Baphuon temple lying just to the north of Bayon a pyramidal representation of mythical Mont Meru
- We step to see our old palace as Phimeankas temple in huge complex that was used for our king in the past time.
- Then Elephant terrace is platform for king and officer viewed show and people meeting.
Preah Palilay was is older than Angkor Thom was nearby, deeply in forest and on path back You see monk sprinkle water to people.
We continue to the famous temple: Angkor Wat. Angkor Wat is a World Heritage Site since 1992, famous for its beauty and splendor. Angkor Wat features the longest continuous bas-relief in the world, which runs along the outer gallery walls and narrates stories from Hindu mythology.
Dinner with Apsara Dance show at APSSARA THEATER or FOUNON.
For those travelers thirsting for cultural highlights of Cambodia, No visit to Cambodia is complete without attending at least one traditional Khmer dance performance, often referred to as 'Apsara Dance' after one of the most popular Classical dance pieces. Traditional Khmer dance better described as 'dance-drama' in that the dances are not merely dance but also meant to convey a story or message.
DAY 08 Siem Reap Exploration (B, L, D)
Rise early to beat the crowds at the photogenic of Ta Prohm "Tomb Raider" fame. Ta Prohm has been abandoned to the elements, a reminder that while empires rise and fall, the riotous power of nature marches on, oblivious to the dramas of human history. Left as it was 'discovered' by French explorer Henri Mouhout in 1860, the tentacle-like tree roots here are slowly strangling the surviving stones, man first conquering nature to create, nature later conquering man to destroy. We visit Ta Prohm early to avoid the masses of crowds and provide a unique visit in this incredible temple.
We head further out through rural countryside to the small but beautiful temple of Banteay Srey. This temple is largely built of pink sandstone, a harder rock that can be more elaborately carved and better survives the rigors of time. This is an opportunity to capture some good photographs of the clear and detailed carvings. We continue to Kbal Spean, the River of Thousands Lingas, lying under the river bed, people believe it brings fertility and blessing Angkor area as the river flows to Siem Reap. Walk 1,200meters to visit the Lingas and enjoy lunch and the water fall. On the way back, cycle on the main road to visit Landmine Museum of Mr. Akira. Mr. Ra is dedicated to clearing the Cambodian countryside of landmines laid during the years of conflict and relies entirely on visitors' donation to fund his work.
Overnight at Home-stay.
DAY 09 Siem Reap – Kulen National Park (B, L, D)
Early morning, transfer to Kulen National Park. Driver will drop us at the bottom of the mountain, trek up to mountain slope, visit the natural water spring from the Buddha foot and enjoy the panoramic view, trek through the thick forest…. Camping by the heritage site, visit the hidden jungle temple and the famous place of Koulen national park called Srah Domrei (elephant pond) and bat cave where you will see thousand of bat living in the cave.
Stay overnight in Tent or Pagoda or in local village's house.
18KM ~ 3-4 hours hiking.
DAY 10 Kulen National Park – Siem Reap (B, L)
After breakfast from the jungle camping site, ready for another trek 17km to the grand Buddha Reclining…and the waterfall, and visit the riverbed carving of thousand LINGAS (dedicated to the God Shiva) and another hidden jungle temples like: Kror Bey Krap Temple, O Pha-Orng temples and the pond of the hermit.
After lunch along the waterfall and riverbed, back to the van, and drive down hill back to town.
17KM ~ 3-4 hours hiking.
DAY 11 Siem Reap – Departure (B)
Transfer to SIEM REAP airport for departure to next destination. It's time to say goodbye, we thank you for traveling with us and warmly welcome you to come again.
Price Details & Inclusions of this Trip
* The price of this trip changes a lot according your group number, travel season and tour class. Please contact one of our travel consulttants for the most detailed qoutation. We ensure the LOWEST price.
What's Include?

10nights accommodation with daily breakfast
Meal: as mention in program (B: Breakfast, L: Lunch and D: Dinner)
Airport transfers & Transport by air con. vehicles as per program
Sightseeing and entrance fees as specified
Local English speaking guide as per program
Bike, 1 foot massage
All boat trip as mentioned in program
Cold water and towel during tours
What's Exclude?

Visa fee: 20$ per person
International air ticket in-out Cambodia
Other meal, drink, personal expenses, tip
You May Also Like...